A story about YOU, 31 for 21 bloggers is up at
Examiner.com
.
Go
here
and leave a comment with your blog handle. Let's spread the word about our kids! This is an opportunity for the public to know you are blogging for Down syndrome awareness.
Yay! Down syndrome awareness month!
Big shout out to Tricia at
Unringing the bell
for doing the interview for the story and for dreaming up
31 for 21
and to RK at
Just RK
for the button allowance.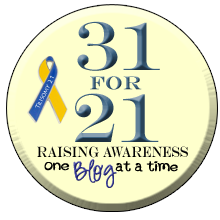 Grab This Button