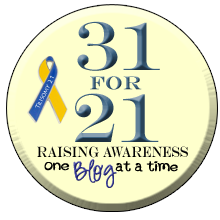 Grab This Button
Tomorrow is October 1st, which means its the beginning of Down syndrome awareness month. I am stepping up to the challenge of blogging all 31 days in honor of this special month.
OK people, help me out. I would like you to ask questions; about Down syndrome, about Moyamoya, about international adoption, about my
memoir
or writing in general, about
examiner.com
, about what it's like to be a pastor's wife, or a mother of four, whatever!
Two years ago I blogged for 31 days in the month of October telling the story of having Polly in Ukraine. Those posts have become the bones of my memoir! If you'd like to check them out on my old Pocket Lint Blog go
here.
If you leave me a question in the month of October, your name will get thrown into a hat. At the end of October Polly will pick one winner to receive a prize! I am still deciding what the prize will be... maybe a small care package?
Join me! Take the 31 for 21 challenge for Polly and Evie. Go
here
for details!